I haven't been writing, because it was our last few weeks of school. We've been extremely busy. I've been on summer vacation since Thursday, though, and am finally able to spend some quality time in the kitchen.
For the next couple of weeks, I have some help -- my two stepdaughters, visiting from Minnesota:
Nearly-11-year-old C., my sous-chef (she's fantastic at chopping veggies and herbs)
And 9-year-old N., my nanny (she kept Molly busy while C. & I were cooking and D. was at the store)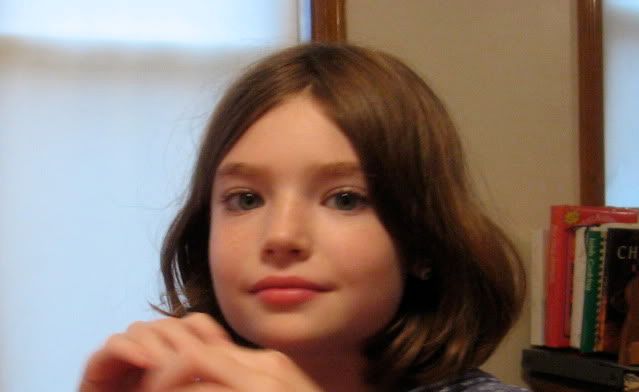 Luckily, C. and N. are adventurous and were excited to be the guinea pigs as I tried a new invention -- Caribbean Tabbouleh. Like Middle-Eastern tabbouleh (a.k.a. tabouli), it contains bulgur wheat, cucumbers, onions, and a lemon/olive oil dressing. But I also added some Caribbean spices, pineapple, mint, and colorful bell peppers. It turned out fantastic, a bright and fresh dish for summer (which finally seems to be hitting us here in New England, albeit in a very wet way.)
Ingredients:

1 c. bulgur wheat (I used coarse bulgur)
2 T. olive oil
2 c. boiling water

One 20-oz can pineapple tidbits, well-drained
2 cucumbers, chopped
1 bunch scallions, just the green parts, chopped
1 bell pepper (I acually used half a red one and half a yellow one), seeded and chopped
A handful of fresh mint leaves, chopped

1/2 t. ground allspice
1/4 t. ground ginger
1/4 t. garlic powder
pinch cinnamon
pinch nutmeg
pinch cayenne
salt to taste
Juice of two small lemons (about 3-4 T.)
1/4 c. olive oil



Directions:



In a heat-proof bowl, stir the olive oil into the bulgur. Add the boiling water. Cover and let stand for 15 minutes, then drain.

Allow bulgur to cool, then add all chopped vegetables and herbs.

Whisk lemon juice, vinegar, and spices together. Pour dressing on salad, toss, and chill. (The longer you can chill it, the better ... I think we made it about half an hour before we ate it. It was fantastic, but I expect it will be even better tomorrow, as these types of salads are...)
This makes a good 8 servings or more.