These posts are getting a little fewer and farther-between, as experimentation in the kitchen naturally slows down ... we're starting to repeat some of the dishes that we've really enjoyed!
Last Saturday, we got a babysitter (an all-too-uncommon occurrence these days) and went to a friend's 30th birthday party. It was a pretty big bash, with tons of food. At the end of the party, the birthday boy's mother-in-law was trying to get rid of the leftover grub. She had what must have been at least a whole platter of veggies and dip; we took the veggies and left the mayo- and sour-cream-based dip. It was a
huge
bag of vegetables, already cut up and ready to be simmered in a giant stock pot. So on Sunday, we made curry!
Indian-Style Coconut Curry

(a.k.a Crudité Curry)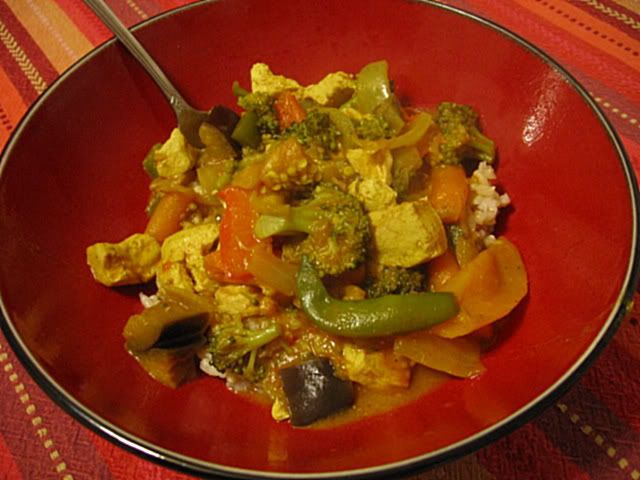 Most coconut curries are Thai, but this one uses more Indian curry spices. If you are not a fan of curry powder, just use a little extra of the other spices - but don't add any more fennel; this was
very
fennel-y as it was.
We also added some veggies from the fridge - bell peppers and eggplant. In the end, we froze about 2/3 of the curry, and still ate off of the remaining 1/3 for three nights. So you may want to cut this recipe in half! As with any curries, don't sweat it if you don't have all the veggies, or if you have some that aren't listed here. Curries are a great fridge-cleaner-outer, and shouldn't be over-planned.
One thing you might want to add, suggested by Donal after we had already finished cooking this, is some chopped-up apple (at the end) or some raisins (at the beginning). A little bit of sweetness would have been nice.
Indian-Style Coconut Curry


Serves at least 12 hungry people!



Ingredients:


1/4 c. canola oil
2 medium onions, chopped
2 pounds firm or extra firm tofu, cut into 1" cubes and drained

2 (14-oz.) cans coconut milk*
1 large (28-oz.) can tomato sauce
1 heaping tsp. ground turmeric
1 t. ground mustard
1 t. fennel seed

1 T. ground coriander
1 T. curry powder
2-3 T. chili paste**

3 bell peppers (we used green, yellow, and red), cut into strips
1 large tomato, chopped (not peeled or seeded)
3 c. broccoli florets
3 c. carrots, chopped
1 large eggplant, cut into biggish cubes
salt to taste
1 1/2 c. sugar snap peas or snow peas



Directions:



Heat the oil in a large stock pot over medium heat. Add onions and cook until softened.

Add tofu and cook for 10 minutes or until starting to brown, stirring occasionally (but try not to break it up)

Add coconut milk and tomato sauce. Stir in spices, adjusting to taste as necessary.

Add all vegetables except the peas. It will look like there isn't enough sauce to match all the veggies, but remember - they will sweat a lot of liquid, thinning out the sauce.

Bring the sauce to a boil, lower heat, cover, and simmer for 1-2 hours, stirring occasionally. The longer the better!

10 minutes before you take it off the heat, stir in the peas. Serve over brown rice or other whole grain.

*We always use half lite and half regular. Most recipes only call for one can, so we use half a can of each and freeze the rest. I made this recipe with a couple of bags of coconut milk from my freezer, thawed beforehand.
**We used more, but if serving to small kids you should use less. If you can't find this stuff, use a little bit of dried crushed red pepper or some Thai red curry paste - but be careful, both of these substitutes pack more of a punch, so you probably will want to use 1 T. or less.