I'm back, and thanks so much to everyone who left sympathy remarks on my last post.
Recently, it was a weeknight and I didn't have any food planned. During the weeks before my mother-in-law passed away, we were spending almost all of our free time at the hospital. Things like meal-planning went by the wayside.
We were in the mood for Mexican food, so I whipped up this:
Super-Easy Spanish Rice and Chimichangas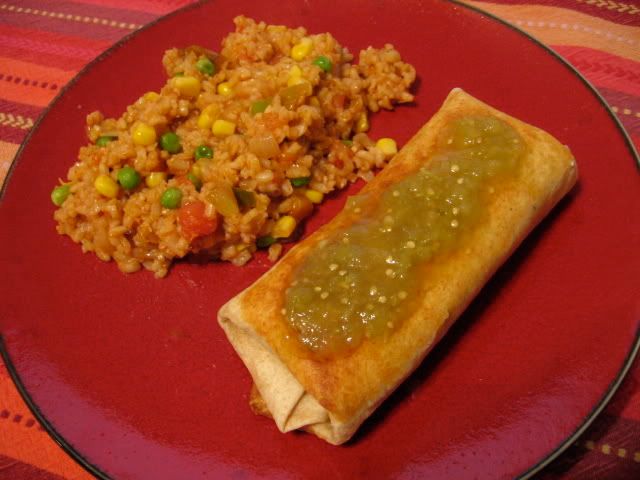 This meal took about 30 minutes, and was
so
good. (I wonder if the fact that my "
super-easy meals
" are often Mexican-inspired is due to my hometown being 10 miles from the Arizona-Mexico border? Not that these recipes are authentic!) This meal was little more fatty than most stuff we cook, but a nice treat when we were in the need of some comfort food. You can always forego frying the
chimichanga
, and just have it as a burrito, if you want to reduce the fat content.
Super-Easy Spanish Rice





Ingredients:


1 family-sized bag of instant brown rice (I use Success brand, and love it - one bag makes 3 cups rice)
1 onion, chopped
1 cup frozen peas
1 small (8.5-oz.) can of corn
1-1.5 cups chunky salsa (I used the fresh kind available in the produce section)
1 T. canola or olive oil
Chopped cilantro (optional)



Directions:



Cook rice according to package instructions (it takes about 15 minutes, including waiting for the water to boil)

While rice is cooking, chop onion and brown in oil, in a medium saucepan, over medium heat.

One minute before rice is done, add peas to onions. Stir.


When rice is done, add rice, corn, and salsa. Stir over medium heat until heated through.

If desired, or if your cilantro hasn't gone bad like mine had (grr!), remove from heat and stir in chopped cilantro.

Super-Easy Chimichangas
Ingredients:

4 whole-wheat tortillas (warm in microwave for 20 seconds if not soft)
1 can refried black beans (I use Amy's or Bearitos, whichever is cheaper, and love both)
1 cup salsa verde (I'm faithful to the $3 kind from Trader Joe's)
3 T. canola oil



Instructions:



Heat oil in a large skillet on medium-high.




Stir salsa into black beans.

Distribute black beans equally onto all four tortillas.

Roll burritos. Fry in oil until browned on one side, turn, and brown the other side.

Serve with more salsa.