I know I've been doing a lot of Mexican food, but I make no apologies! Hopefully some of my readers like it as much as I do.
These tempeh tacos, which I made with
the same Spanish rice I blogged last week
, were
really
good. Better than
the ones I made back in January
, and definitely an easy dish that we will make again and again. The marinading process means planning ahead is a necessity, but once it's time to cook the tempeh, it comes together very quickly.
The Best Tempeh Tacos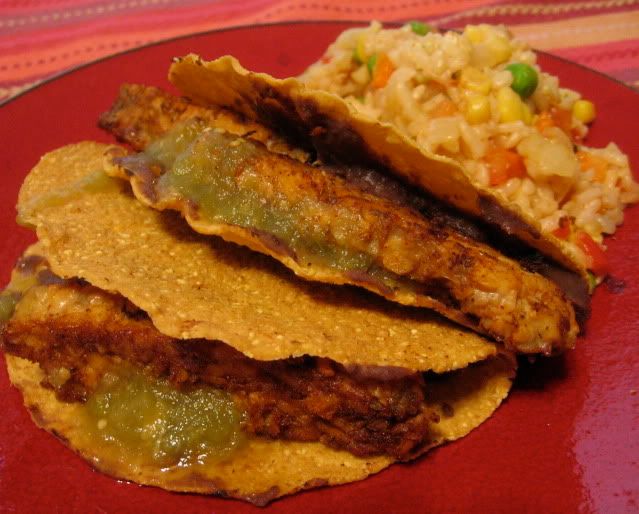 Ingredients:


1 (8-oz.) package of tempeh
2 t. dry minced onion
1 t. chili powder
1/4 t. crushed red pepper
1/2 t. garlic powder
1/2 t. oregano
1 t. ground cumin
1 T. tamari (or 4 1/2 t. soy sauce)
2 T. lime juice
2 T. water
2 T. canola oil

Taco shells (I use Bearitos brand, which has no hydrogenated oils or artificial anything)
Other taco fixin's (our fridge was pretty bare, so we just used canned refried beans and salsa. Lettuce or other greens would've been nice, though - or my tangy jicama slaw would have been heavenly!)



Directions:



Slice the tempeh into 1/2-inch slices.

Place tempeh in a small pot and cover with water. Boil for 10 minutes.

Meanwhile, combine all other ingredients

except

oil. This is your marinade.

Take tempeh out of the water and place in a ziploc bag with the marinade. Refrigerate for at least an hour (I did more like 4 hours)


When finished marinating, heat canola oil in a skillet over medium heat. Fry tempeh until browned on one side. Flip and brown the other side.

Assemble tacos. We heated the shells in at 350

° F (about 170

° C) for five minutes, lined them with warm refried beans, put a couple of sticks of tempeh in each shell, and covered in salsa.