This recipe is one I whipped up in less than half an hour on a weeknight, when I was short on perishables except for a soon-to-be-old bag of spinach. You could make the recipe without spinach, too, but I like the color and nutritional value it adds.
Thai Peanut Noodles with Spinach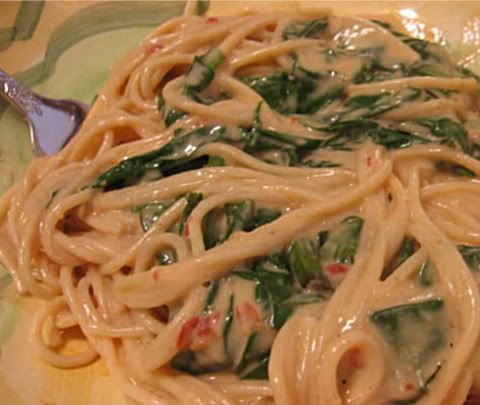 Ingredients:


6 oz. (pre-cooked weight) whole wheat angel hair pasta

1/2 c. smooth peanut butter (I like to use Teddy's, an all-natural brand)
1 can lite coconut milk
1 T. red chili paste (Sambal Oelek chili paste is pretty mild, but if you or your kids are really heat-sensitive, you might want to add a little less)
1 T. brown rice syrup (or 1 t. agave nectar)
2 T. apple cider vinegar
1/4 t. garlic powder
salt to taste

1 10-oz. bag spinach



Directions:



Cook pasta according to package directions.

In a medium saucepan, combine peanut butter and coconut milk. Cook over medium-low heat, stirring frequently, until mixture is smooth.

While peanut butter/coconut milk mixture is heating, place spinach in a microwave-safe container with a couple of tablespoons of water. Cover loosely and microwave for 1-2 minutes, until spinach is wilted.

When peanut butter mixture is smooth, add remaining ingredients and continue to heat over medium-low until warmed through.

Add noodles and spinach to sauce and stir over medium-low flame until the entire mixture is warmed through.