I've taken a break from blogging for the last few days, trying to absorb all the reading I've done. I've also struggled with more migraines than I'd like to admit, which tends to slow me down.
The first book I read to try and prep for our experiment was
The Hip Chick's Guide to Macrobiotics
: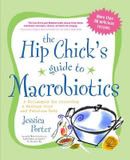 I really thought I'd love this one. And it
is
a good reference for cooking different whole grains and such. And it
does
have lots of yummy-looking recipes, like ...
Mediterranean Barley Salad,
Millet-and-Cauliflower Mashed "Potatoes" with Mushroom Gravy,
Vegan Lasagna,
Pumpkin-Seed Salad Dressing, and
Lots more that I'll have to try!
And ... well, first let me say that I really think I read it with an open mind, although an "open mind" for me means, "Could this Eastern philosophy conceivably be explained in a Western scientific way, at least in the future?" (Eastern-origin treatments that I think Western science should look at more closely include yoga, acupuncture, and such.)
But I read way too many statements like,
"Throw out the microwave. . . . The electromagnetic radiation necesary for microwave cooking is so intense and so yin (whereas normal heat comes from yang energy) that it is weakening to the blood and produces chaotic energy."
.... HUH? This really bugged my science teacher self. Microwaves, in fact, are electromagnetic waves -- LIGHT that our human eyes just happen not to be able to see. They are of a wavelength right in between RADIO waves and INFRARED waves. Infrared waves are coming out of our bodies all the time, since we are warm-blooded. Night-vision goggles usually detect infrared heat. And radio waves ... well, those are all around us too. Microwave ovens work by taking liquid in food and speeding up the molecules, which makes them hotter. Regular ovens do the same thing, but with a different type of wave that feels "hot" to us. That's it.
And, "Go out and get an apple. And a saltine cracker. Put them next to each other and just relax. Let your inner compass feel if there is any relationship between them. . . . "

If this statement resonates with you, blog reader, please go out and take the advice. Let me know what your inner compass tells you about the apple and the saltine. I'm trying not to say anything TOO snarky here, . . . so I'll just stop.



After I was done reading through the book, I said to D, "I just can't buy in. I don't think the macrobiotic thing is going to work for me at all, except that I'll get some good recipes out of it. This is just not how I view the world."
And
then
I read the second book I had bought, and . . . WOW. More on that in my next post!