Sunday is becoming my cooking day. Today I made
Szechuan-marinated
baked
tofu
and tempeh for this week's lunches (no picture included; it's pretty boring-looking), plus...
Red Bean Hummus

and...
Moroccan Lentil Soup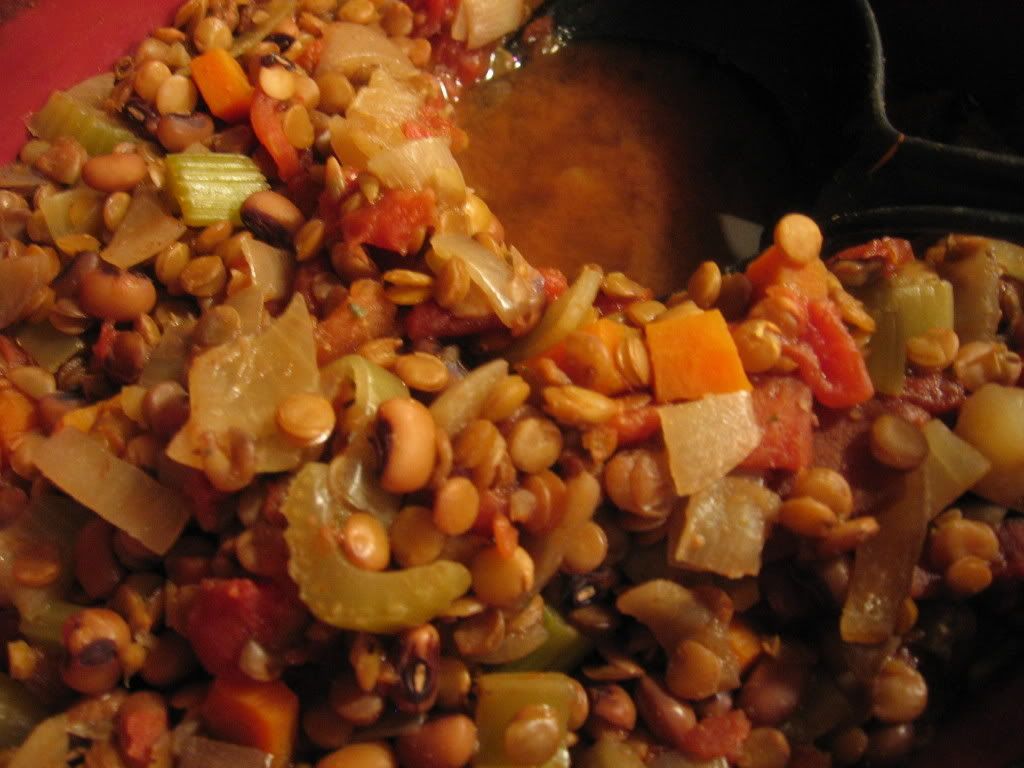 AND...
Chipotle Collard Greens

Scroll to the bottom of this post for the Red Bean Hummus recipe, made with Azuki / Adzuki / Aduki beans (the spelling varies, as it's
transliterated
from the Japanese characters.)
The amazing collard green recipe is from the
Homesick Texan
, one of my favorite food blogs. Even though I no longer can eat most of the stuff on this blog, her blog is still worth reading for the wonderful stories and the amazing food photography. For those of you who love your greens with lots of ham and/or bacon, give these a try. The smoky chipotle peppers made me not even miss the meat, and the strange-seeming addition of peanut butter did
not
make them taste very peanut-y, but
did
give the sauce such a nice, smooth mouthfeel that I had to put it on rice just to soak up as much of the goodness as I could! This was a team effort, and was one of both my and D's favorite dishes we've made so far.
The Moroccan lentil soup is a recipe from
The Crockpot Lady
, a very cool blogger introduced to me by my sister,
C.Beth
. The Crockpot Lady spent all of 2008 using her slow cooker
every single day
. Many of her recipes are vegetarian or vegan, and almost all are gluten free (she has a child with celiac disease.) I changed the recipe a little -- blackeye peas instead of pinto beans, no chickpeas, and 3 cups of broth instead of 4. The soup sat for about 9 hours, and it was so flavorful. I made it with less cayenne pepper than the recipe called for, so Molly could eat it -- and she gobbled it up. It still had a little bit of spice, but she had her milk, so she was fine.
On Friday, we went to the Japanese restaurant around the corner for a mostly-macrobiotic (but not at all vegan) meal. We already go there often, and it'll probably be a weekly treat for us on this new diet. $23 at this place gets you a meal for two, including salad, miso soup, a good-sized sashimi platter, veggie and shrimp tempura, rice, and ice cream. We said no to the ice cream, so the only non-macro thing on the menu was the white rice (which Molly eats far more of than I do). It's a nice treat, especially when you add on edamame and a spicy tuna roll like we did, and super-cheap!
Saturday was D's dad's birthday party, at a pizza joint called
Flatbread
in Portsmouth, NH. They use all organic ingredients, and they try to buy local - although they aren't able to do it for many of their ingredients this time of year. We ordered their vegan pizza (it's not on the website, but is on their normal menu), with tomato sauce, caramelized onions, garlic oil, olives, and mushrooms. It was so flavorful that I didn't even miss the cheese! Any New Englanders out there really need to try this place. I did, however, have half a cupcake for dessert. If there's any time to cheat, it's at a birthday party.
And, finally, the promised recipe: Red Bean Hummus. A bit of background first, though. Adzuki beans are the beans behind the red bean ice cream and other red bean-paste desserts you find in Asian shops and restaurants. They are not sweet, but are often put into sweet recipes. This was my first time making them. I think they taste more like pinto beans than any other type, although they look like miniature kidney beans. They're about the size of lentils and, like lentils, do not have to be soaked. I put this recipe together, using
the hummus recipe from Vegan Spoonful
as my inspiration. The flavor is a little different from regular hummus, and a nice change.
Red Bean Hummus





Ingredients:


1 1/2 c. dry adzuki (azuki, aduki) beans
1 strip kombu seaweed (optional, but will help tenderize, flavor, and de-gassify the beans)
6 c. water

1/2 c. tahini (sesame paste)
4-6 T. lemon juice
2 T. lime juice
2 cloves garlic
1 T. ground cumin
3 T. olive oil, plus more for drizzling
salt to taste
freshly ground black pepper to taste
cilantro to garnish (optional)



Directions:


Add the beans, kombu, and 3 c. of water to a pot. Bring to a boil, lower to a simmer, and cook, uncovered, for 30 minutes. Remove from burner, add the other 3 c. cold water, and bring to a boil again. Simmer for 1 hour, or until beans are tender.

If desired, remove kombu (I didn't - it blends in well, and the flavor is very mild after it's been boiling for an hour and a half.) Drain beans and pour into a food processor or mixing bowl. Add all other ingredients and pulse, either with the food processor or with an immersion (hand) blender. (

A regular blender will work too, but you'll probably have to do it in small batches.

) If it's too thick, you can add a little bit of water. These beans are not as dry as garbanzo beans.

When finished, transfer to a serving bowl. Drizzle olive oil on top and garnish with fresh-ground pepper and cilantro.

Eat with whole-wheat pita (baked into chips or not), fresh veggies, etc ... or it makes a great sandwich spread!