Well, everything is not going according to planned ... but that's a good thing.
We started out as expected, with Chickpea Curry and Escarole Siciliano on Thursday night: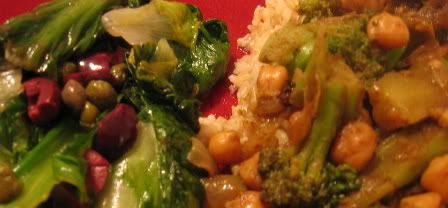 The escarole is a bit strong for Molly, but I think she would eat that curry every day if she could. I adapted the recipe quite a bit from
the allrecipes site
, so scroll down to the end of this post if you want to see how I made it. The escarole was made without recipe adaptations;
click here
if you want to try it. It is SO good, and a nice way to eat greens if you are afraid of the dreaded over-boiled lump of pre-frozen spinach that you grew up with.
That dinner brings up ...
Tip #1 For Easier Vegan(ish) Cooking:

When making rice, make LOTS extra. It keeps in the fridge for a
few days, and is great for fast lunches ... and even breakfasts!

I was planning on making marinated tempeh and miso soup for lunch the next day, but we have a 2-year-old with a cold who was not up to heading to the Asian store and Whole Foods on Thursday night. So Friday rolled around, and I was stuck: what to do for lunch? I'm sure we'll do our share of PB&J, but I was hoping to do more actual cooking for this long weekend before I'm back at work on Monday.
So I opened the fridge and saw leftover rice (see
Tip #1
, above), leftover canned kidney beans and petite peas (Molly's go-to meal when she doesn't like what we're having), corn tortillas, and a bag of onions. And I made...
10-Minute Bean-and-Rice Tacos

We ate these so fast that I had to take a picture of the leftovers in an ugly Gladware container, instead of on a slightly prettier plate. So it's an extreme close-up. The recipe is at the bottom of this post.
That didn't even use up all of my rice; I'd made so much extra on Thursday that I still had a good-sized serving left in the fridge. So this morning, I made a little breakfast rice - warm rice, soy milk, cinnamon, and chopped prunes (yes, I like prunes. You should try them sometime.) Rice for breakfast may sound weird (except to about 2 billion Asians), but it's really no different from eating other grains like oatmeal. It was tasty and filling. (
Macrobiotic people aren't huge soy milk fans, because it is still processed food. However, I don't think I could do this transition without it. I bought Silk Unsweetened, and it turns out I like it better than the normal soy milk - which, to my surprise, has sugar added. Also, it's fortified with the vitamins and minerals you'd normally find in milk.
)
By the way, I'm doing the tempeh tomorrow, and will post about it then. We still have leftover taco filling and curry to eat for lunch today. That's why it's a good thing that all is not going as planned - the leftovers are stretching further than expected.
And now, for the recipes! (If you aren't interested, scroll down anyway for a show-off pic of Molly on Christmas morning)
Chickpea Curry with Rice
Ingredients:


2 Tbsp. olive oil
1 chopped large onion (or two small)
2 tsp. chopped garlic (I use the jarred stuff, a welcome shortcut)
2-3 tsp. chopped, peeled ginger (or 1/2 - 1 tsp. ground ginger)

8 whole cloves
1-3 tsp. ground cinnamon (depending on how much you love it)
1 Tbsp. ground cumin (or less if you aren't as much of a cumin fanatic as me)
1 tsp. ground coriander
OR
halve all of the above ingredients and add 1 Tbsp. garam masala spice mix (available in the Indian aisle or from McCormick in the regular spice aisle - this adds SUCH a good flavor)

1 Tbsp. curry powder (optional)
salt to taste
1 pinch cayanne pepper (we leave this out so it's not too hot for Molly)
2 (15-oz.) cans garbanzo beans, UNDRAINED
frozen vegetables (broccoli, peas, carrots - whatever you have on hand)
chopped fresh cilantro (we didn't have any this time, and it was still good)



Directions:


Heat oil in a large skillet or saute pan. Add onions and cook until they are starting to turn brown and caramelized on the edges. Add spices, garlic, and ginger and cook for one minute, stirring constantly. Add garbanzo beans and frozen veggies. Bring to a boil, turn heat down, and simmer for up to 45 minutes - the longer, the better.

For a nice cold-weather variation, soften some chunks of carrots and parsnips in the microwave (just until starting to get soft) and add them instead of frozen veggies.

Serve over brown rice (we found some yummy brown basmati) with chopped cilantro on top.
Serves 6-8.


10-Minute Bean-and-Rice Tacos
Ingredients:
1 T. canola oil
1 small onion, chopped
2 c. leftover brown rice
1 c. kidney beans
1/2 c. petite peas or other veggies
2 t. cumin
1 t. chili powder
salt to taste

6-8 corn tortillas, softened (wrap in paper towel and microwave for 30 seconds; turn over and add 20 more seconds if necessary)
salsa (I like Trader Joe's salsa verde; D likes their habanero lime)
lettuce, spinach, or other raw greens; cilantro; sliced radishes; or whatever taco add-ons you prefer



Directions:


Fry onion in oil over medium heat. When softened, add other ingredients. Stir until well-mixed and heated through. Spoon a small amount of mixture onto the center of each tortilla, add salsa and garnishes, fold over, and eat!
Serves 3-4.