We did a big shopping trip the day before yesterday - a little Asian store near our house (we're lucky to live in a big Asian neighborhood, because many ingredients in macrobiotic recipes are Asian ones that are more obscure to most Westerners), Trader Joe's, and Whole Foods. We bought a ton of stuff to stock our cupboards, including millet, hulled barley, dried garbanzo and adzuki beans, tahini, tempeh, tofu (super-cheap at the Asian store, and made right down the street from the school where I teach), wakame and kombu seaweed, miso, tamari, brown rice syrup, brown rice vinegar, dried mushrooms, nutritional yeast, quinoa,...
This was my first time ever of buying 12 out of the above 16 ingredients, although I had tried all but the brown rice syrup and nutritional yeast. I had bought tofu, dried mushrooms, quinoa, and tahini in the past. It was all a little pricey when added together ... but many of the ingredients will last a long time in the fridge or pantry.
A small sample from our trip: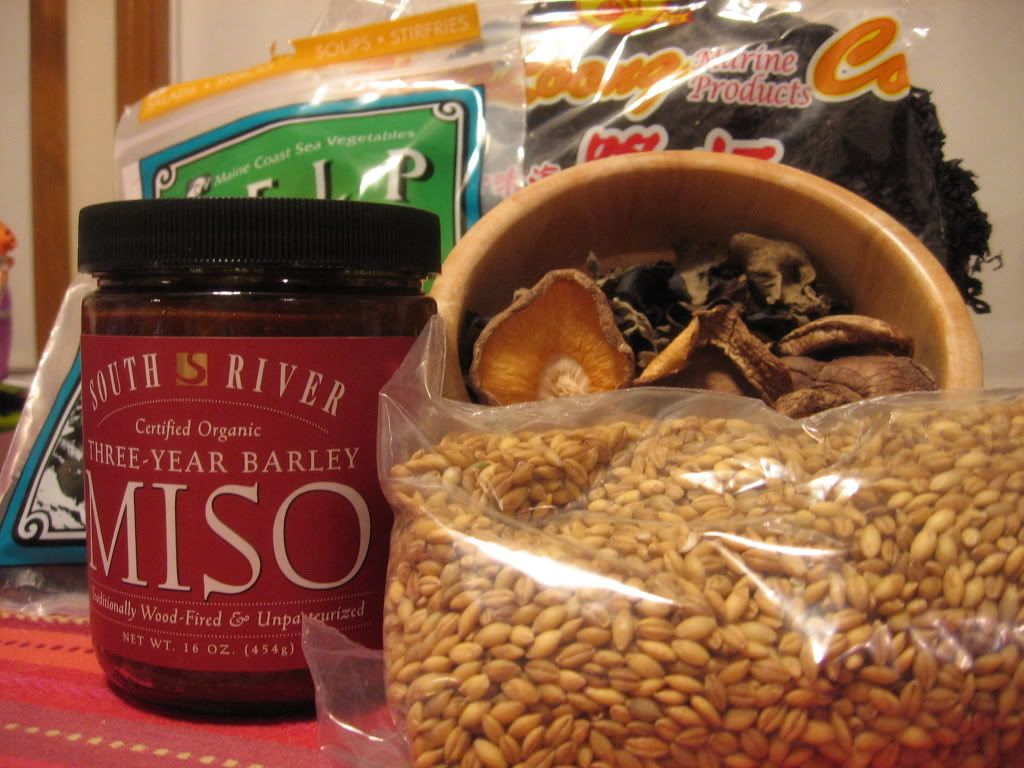 Yesterday afternoon, I made hummus from the
wonderful recipe at The Vegan Spoonful
blog. I've made hummus before, but never from chickpeas that I cooked myself. I don't know why I've always been so afraid to cook beans (rather than buying them in a can) - it was simple, but it does require soaking overnight, so not good for a last-minute dish. I added kombu to the soaking and cooking water (a type of kelp - I had no idea there were so many varieties of seaweed out there), which helps tenderize the beans and prevent their more ...
pungent
side effects.
I didn't take a picture of the hummus. It turned out really pretty, with coarse-ground pepper, a few chickpeas, and a swirl of olive oil on top. And then I took one of the
homemade pita chips
I'd thrown together in 10 minutes and ruined the pretty picture. So click over to the recipe to see how the hummus is supposed to look! It was really, really good. Molly LOVES it. She eats it with a spoon. She calls it "Thomas" instead of "hummus." ("More Thomas, please, Mama!")
Finally, for dinner, we put some of our new ingredients to work on Barley Mushroom Soup from
The Self Healing Cookbook
. I don't want to put the recipe in this post, because it's copyrighted and I didn't really adapt it enough to call it my own. But basically, it's a kombu-and-mushroom broth with barley, sesame oil, onion, garlic, carrot, celery, bay leaf, dill, cabbage and miso all added in at various points. It was really, really, really good. Thick, somehow creamy (without any "creamy" ingredients), and surprisingly filling! It was even better tonight when we had it for leftovers.
Here is a picture (I looked at my camera manual and am getting slowly better at food photography):
I've done more cooking, too - marinated and slow-baked tempeh and tofu for lunch today, with enough extra to bring during the week, and quinoa pilaf to bring for lunch. Maybe more on that stuff later, but leave a comment if you're interested in the recipes (or search around my
delicious.com
page, under the "vegan" label).
Needless to say, I'm enjoying the adventure!
P.S. I have mentioned tempeh several times, without ever explaining what it is. It is sort of a cultured soybean cake, with other whole grains added in. The one I used today had millet, barley, and brown rice in it. It has a really good texture and is a great meat alternative (one that
doesn't
add all kinds of unpronounceable stuff to make it taste like meat - it doesn't taste like meat, it tastes like tempeh. And that's good!) It can be sliced or crumbled. Tempeh is cultured, just as yogurt and many cheeses are cultured. Here's a
good picture
- you can see what a complex texture it has.