Note: I have written more posts than usual lately, so if you're stopping by for the first time in a week or two, make sure you check out all of them!
I recently made
Chickpea Cakes Piccata
from the Happy Herbivore's blog. They were easy and tasty (although I would add only half of the recommended poultry spice next time, and the sauce made too much - I would halve that part of the recipe). "Why don't I make bean cakes more often?" I asked myself.
And out of that question came this recipe. I am prouder of this dish than almost anything else I have created. It was a smashing success (no false modesty here!) It's very healthy and tastes shockingly good. It is now in competition with the veggie burger from
The Druid Pub
for the Becki's Favorite Veggie Burger blue ribbon.
Whether you are vegetarian, vegan, or neither - try this recipe!
I wish I could make it for all of my readers.
Black Bean and Millet Burgers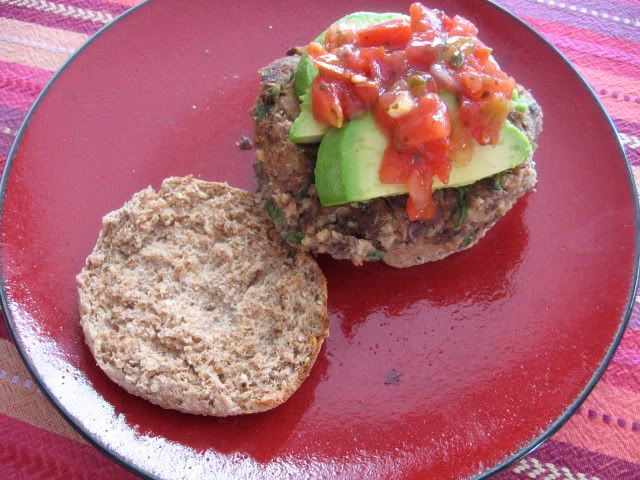 Ingredients:

1/2 cup millet (

you can also use another small grain like quinoa, which looks very similar to millet when uncooked - I think even whole grain couscous would work

.

Cook either according to package instructions.

)
1 1/2 cups water
1 pinch salt

1 medium onion, chopped into a few large pieces
1 bell pepper (I used 1/2 red and 1/2 green), seeded and roughly chopped
1/4 t. salt
1 T. canola oil

2 cans black beans, drained (

It's okay if they're still kind of wet - just drain through the can lid.

)
1 T. cumin
1 t. garlic powder
1 t. salt
About 1/2 cup chopped cilantro


I think it would be tasty to add 1-2 chipotle peppers to the black bean mixture, but haven't tried it yet. If you do, please comment and let me know how it was!



More canola oil
Whole wheat flour



Directions:



Add millet, water, and a pinch of salt to a medium saucepan. Heat on high until boiling, turn heat to low, cover, and simmer for 20-25 minutes until water is absorbed.



While the millet is cooking, use a food processor to mince onion and pepper (do not puree - just pulse until very, very finely minced). If you don't have a food processor, use a blender and do it in batches. A hand blender (immersion blender) would also work.


Heat canola oil on high in a large skillet or sauté pan. Add onions, peppers, and 1/2 t. salt. Cook, stirring frequently, for 5 minutes.

Stir together black beans, cumin, garlic powder, and 1 t. salt. Pulse in a food processor until beans are mostly broken up, but not pureed. Stir cilantro into the mixture.

Combine millet, bean mixture, and onion/pepper mixture in a large mixing bowl. Stir until well-combined. Use your hands to create 6 large or 10 medium-sized patties.

Lightly dip each patty in whole-wheat flour, brushing off any excess.


Brush a large skillet or sauté pan with canola oil. Cook patties on medium heat until browned, flip, and brown the other side (You may want to brush more oil onto the skillet before laying the flipped burger down). It takes several minutes per side. Don't make the burner too hot, or the patties will brown before heating through.

I served the burgers on sprouted-grain (Ezekiel bread) English muffins, topped with avocado slices and store-bought fresh salsa.