I love summer, in part because it is the only time of the year when I'm in the mood to eat lots and lots of cold salads. I am a
huge
cold salad fan ... it just doesn't sound so good when it's freezing outside.
While browsing the produce section of Stop and Shop on Saturday, I had an idea:
Wouldn't fennel and dill go well together?
I've made fennel salad before, from
this fantastic recipe
, but it had tarragon in it. So I decided to try and invent a fennel-dill salad. And it was so good. Feel free to add or subtract ingredients; this ended up being a combination of what struck my fancy at the store and what I had sitting in my veggie drawer at home.
Fennel-Dill Salad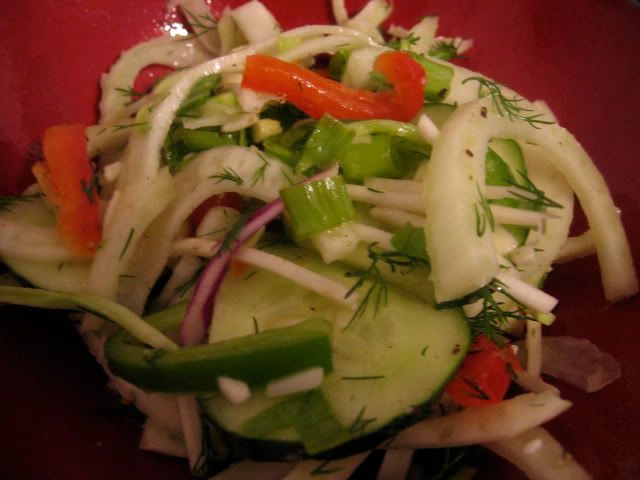 Ingredients:

1 bell pepper (I used 1/2 red, and 1/2 green), julinned
2 fennel bulbs, cut in half and sliced thinly (spritz them with lemon juice to keep them from browning)
1/2 bag of broccoli slaw mix (julinned broccoli, carrots, and cabbage), or other cole slaw veggies
1 cucumber, sliced thinly and sprinkled with salt
1 bunch scallions, green parts only, diced
1/2 c. chopped dill

1/3 c. olive oil
juice of 4 very small lemons, or 2 large lemons (about 1/4 c.)
1/4 heaping tsp. celery salt
1 clove minced garlic

Salt & fresh ground black pepper

Instructions:

Combine oil, lemon juice, celery salt, and garlic in a food processor or blender.

Combine vegetables and dill in a large bowl. (

Yes, I know that bell peppers are actually fruits, not vegetables. But I'm calling them vegetables anyway. So there.

)
Pour dressing over salad and toss. Serve immediately or chill.