D's two daughters (featured in my
Caribbean Tabbouleh post
) left yesterday. We miss them a ton, but we had a fantastic time while they were here. It's hard having them live so far away.
D took a few days off last week, and we reserved a campsite in the White Mountains for Tuesday and Wednesday. N (the 9-year-old) had studied the Appalachian Trail in school, and was excited to see and hike a small portion of the trail for herself. Our weather here has been depressingly bad this summer, with more wet and cool days than anything else. But it got warm and gorgeous over the 4th of July weekend, so we had high hopes for camping.
And then we watched the weather forecasts. And we watched them and watched them, hoping that somehow they would change. They didn't. We canceled our trip, disappointed but relieved -- it rained hard for two days straight, with big thunderstorms both in Boston and the White Mountains. It would have been a miserable and dangerous couple of days.
So what did we do? Well, you know what they say ... When life gives you lemons, set up a campsite on the enclosed back porch! (Or something like that.) Our 3-4 person tent just barely fit between the walls of the narrow, long room: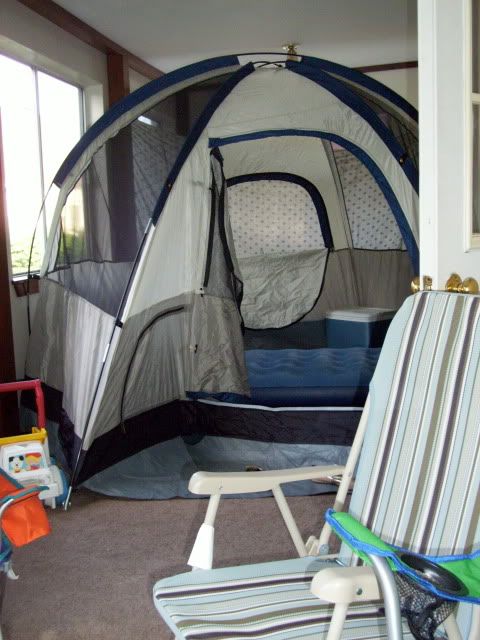 We made hobo veggies in the oven, since we didn't have a campfire. (See below for the recipe - these were SO good!)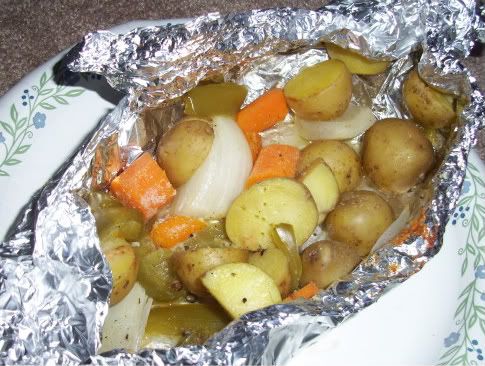 We fired up the camp stove and sat around it, making pita pizzas and s'mores (both non-vegan). We played cards to the light of camping lanterns and told jokes: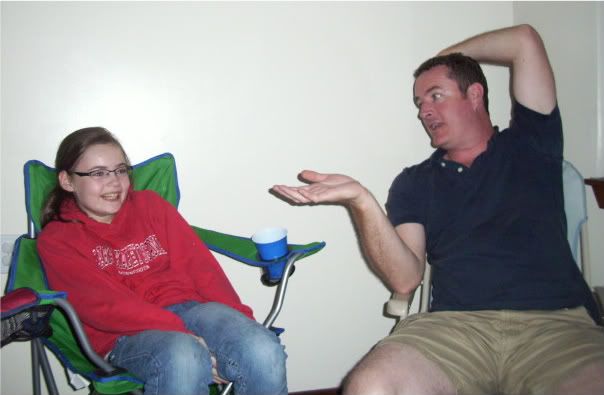 I don't know what made it feel the most like a true camping experience: the plastic smell of the tent, the fold-up chairs, the cheap beer, the flannel shirts that N and I wore, or the s'mores. What I do know is that it's a night that none of us will forget any time soon, probably more memorable in the end than a camping trip would have been.
And now, the recipe (adapted from one
here
):
Oven-Baked Hobo Veggies
Ingredients:
About 20 small baby potatoes, cut in halves (if very small) or fourths
1 bell pepper, cut into strips
4 carrots, peeled and cut into 1-inch segments
1 medium onion, cut into wedges
Vegan margarine
Garlic powder
Salt and pepper



Directions:



Preheat oven to 350

° F (about 170° C)

.
Cut 4 pieces of aluminum foil, about 18 inches each.


Divide the veggies into fourths, putting one batch in each piece of aluminum foil.

Put 2-4 pats of margarine onto veggies in each packet.

Sprinkle garlic powder on top of each batch of veggies (as much as you like). Season with salt and pepper.

Fold each piece of aluminum foil over the veggies, making a packet to hold in the juices.

Bake packets until potatoes are done (it took 70 minutes for mine.)
Makes four large servings.