I'm not sick of hummus yet, but was ready for a change. So this week I made a big batch of white beans (soaked overnight this time - gotta love foresight) and experimented. The resulting dip looked like mashed potatoes. I'm not sure if that's a good thing, but it didn't
taste
like them, which I think is for the best. The dip isn't incredibly strong in flavor, but is complex and mouth-watering. Molly even liked it, which surprised me because of the caper flavor. And the chips ... well, who can say no to pita chips?
White Bean & Caper Dip with Rosemary-Garlic Pita Chips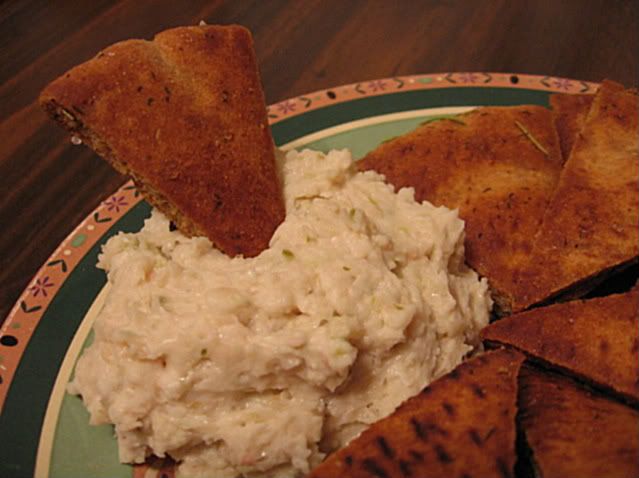 Here are the recipes:
White Bean & Caper Dip or Spread
Ingredients:
about 2.5 cups of white beans (3/4 cup dried beans)
4 cloves garlic, minced
1 T. capers, drained
1/4 c. olive oil
2-3 T. lemon juice
salt to taste
water



Directions:



Soak and cook beans according to package instructions (

or use the

quick-soak

method, or just use 2 cans of beans

- I used Goya Small White Beans and added a strip of kombu, removed at the end).

Use a food processor or hand blender to thoroughly mix all ingredients.

Salt to taste

I made this thick, because we use it as a sandwich spread as well as a dip. But you can add water, a couple of tablespoons at a time, if you want it creamier and thinner.
Rosemary-Garlic Pita Chips
Ingredients:

6 small, or 4 large, whole-wheat pitas
2 T. olive oil
1/4 - 1/2 t. garlic powder
1 T. dried rosemary
1/4 t. salt



Directions:



Preheat oven to 350° F (175

° C)

.

Cut pitas into eighths.

Mix other ingredients in a large zip-top bag.

Add pita to the bag and shake until well-coated.

Place chips on a foil-lined cookie sheet and bake until crispy, turning once, about 15-20 minutes.