I made Sloppy Joes for dinner on Valentine's Day. Is that unromantic? Well, at least they're red ... And D and I got a babysitter and got to go out the next night, which was perfect.
This dish was very successful, in large part because of this amazing
organic ketchup
that I found. It's sweetened with agave nectar instead of the unfortunate high-fructose corn syrup that American companies generally use. I'm not a big ketchup fan ... or I
wasn't
until I tasted this stuff! The flavor is so good -
way
more tomato-y than other brands, a little spicy (but not hot), and a little sweet. I'll never buy Heinz again.
So, Sloppy Joes ... the real test is, does the 2-year-old like them? A properly-made Sloppy Joe will be a hit with any kid. Molly's been a picky eater lately, so I had my fingers crossed. You tell me if you think she liked them:
Hopefully that convinced you, and you'll make this easy-and-tasty dish yourself. D and I loved it, too. By the way, I was inspired by a recipe over at
Simply Recipes
, which I made in the past. But I wasn't crazy about the spice mixture in that one, so I improvised. And of course, that recipe isn't anywhere close to being vegan ...
Vegan Sloppy Joes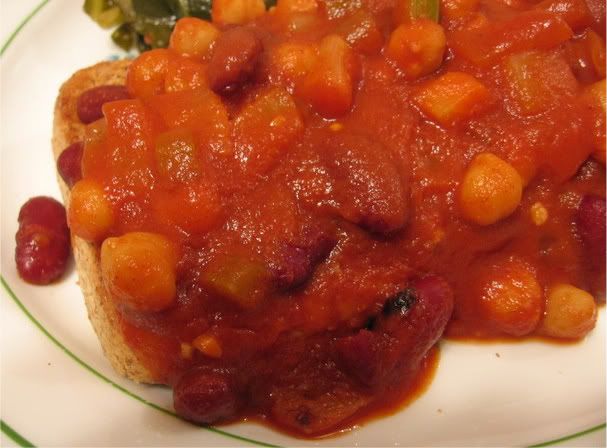 Ingredients:

2 T. olive oil
1 medium or large onion, diced
1 medium carrot, diced
2 small (or 1 large) stalks celery, diced
3-4 cloves minced garlic
1/3 cup agave-sweetened ketchup (or at least organic, sugar-sweetened if you can't find the really good stuff)
1 large (28-oz.) can tomato sauce
1/4 t. cinnamon (less if you aren't a huge fan - you can really taste it)
1/4 t. ground sage
salt to taste
2 (15-oz) cans beans (I used one can garbanzo, and 1 can kidney), drained
6 Whole-wheat sandwich rolls or hamburger buns (the least nutritionally-iffy ones at my supermarket were Thomas' mini bagel buns. Sort of a cross between a bagel and a hamburger bun.)
Vegan margarine




Instructions:



Saute onions in oil, over medium heat, until translucent.

Add carrot and celery and cook for 4 minutes.


Add garlic and cook 1-2 minutes.

Add ketchup and tomato sauce. Stir until well-blended.

Add cinnamon and sage. Stir well. Add salt to taste.

Add beans. Stir and bring to a boil. Turn down heat and simmer 10-20 minutes (the longer the better).

Toast and butter bread. Serve open-faced, with the Sloppy Joe sauce poured over both halves of the bun.
I think this sauce would be good over rice as well, or even added to a macaroni bake. But then it would be called something other than "Sloppy Joes" ...