My friend Rachel loaned me her copy of
Veganomicon
, a huge vegan cookbook. I've made two dishes from this book so far, and it's enough to convince me that I need to buy my own copy. Both dishes were
big
successes. I think this is one of those cookbooks that you'll find in most vegan kitchens, sort of a
Joy of Cooking
for plant-eaters. Thanks, Rachel, for the loan!
The first dish I made was vegan moussaka. If you've ever had
moussaka
at a Greek restaurant, you know that it's sort of like Greek lasagna. No noodles, but it's a layered dish that typically includes tomato sauce, cheese or bechamel sauce, lamb, and eggplant. Considering that half of the ingredients I just listed are animal products, it's hard to imagine how a really
good
version of this dish could be made in a vegan kitchen. Well, luckily,
I
didn't have to imagine it - the authors of
Veganomicon
did it for me! And they kindly gave me permission to reprint the recipe here. It's not a recipe for a weeknight (takes too long), but is completely worth all the work. It would be a crowd-pleaser at a dinner party. Next time I make lasagna, I plan to adapt both the tomato sauce and the pine nut cream from this recipe (subbing Italian spices for the Greek ones).
Vegan Moussaka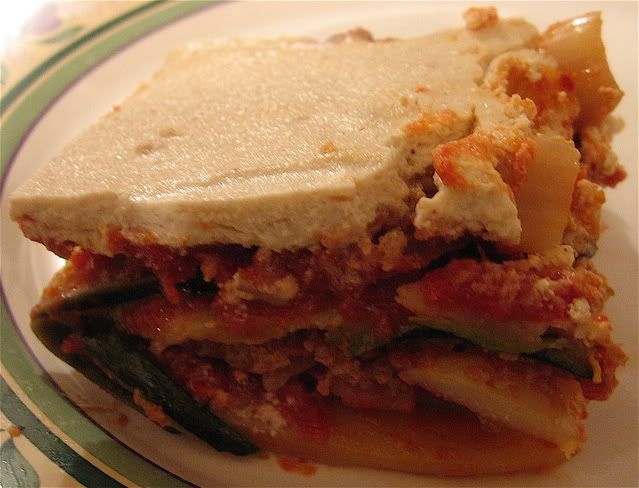 (For a much prettier picture, taken by the cookbook authors,
click here
.)Scroll to the bottom of this post for the recipe, try it, and see if you don't go and buy the cookbook yourself!
The second recipe I tried was a lot easier, and will definitely be part of our repertoire from now on:
Plantain and Pinto Bean Stew with Parsnip Chips
Thanks to D for making this with me! The spiciness was just right (for us - unfortunately too much of a bite for Molly), and the plantains were a perfect addition. You'll have to buy the cookbook for this recipe, though.
Eggplant-Potato Moussaka with Pine Nut Cream

From Veganomicon, used with permission. My comments are underlined.

Serves 6 to 8
Time 1 hour 20 minutes (or 2 hours if you have a toddler and/or are not very fast with a knife)

Vegetable Layer:
1 pound eggplant (I found this to be 1 not-too-big, but maybe bigger-than-medium, eggplant)
1 pound zucchini (For me this was 3 small zucchinis. Probably 2 big ones.)
1 1/2 lbs. Russet or baking potatoes (6 medium russet potatoes for me)
1/4 c. olive oil (I didn't measure)

Sauce:
1/4 c. olive oil (I used less)
4 large shallots, sliced thin (I used one medium onion)
3 cloves garlic, minced
1/3 c. vegetable broth or red wine (I used white cooking wine, which was good)
2 (15-oz) cans crushed tomatoes, with juice (I used 1 28-oz can)
2 t. dried oregano
1/4 t. ground cinnamon (I used less - D isn't a huge fan - I guess he does have SOME faults.)
1 bay leaf
Salt (I actually didn't have to add any, probably because I assume there was some in the canned tomatoes)

Pine Nut Cream (The BEST part! So good!)
1 lb. soft silken tofu (I used NaSoya 50% less fat)
1/2 c. pine nuts, plus additional for garnish (optional - I didn't do this because I only bought a 1/2-c. bag, at $3! Does anyone know any cheaper sources for pine nuts?)
3 T. lemon juice
1 t. arrowroot powder (I didn't need this. If you do need it and don't have any, you can use 1/2 heaping t. cornstarch)
1 clove garlc
pinch of freshly grated nutmeg (add more at the end if you can't taste it - I had to)
1 1/4 t. salt, or to taste
white pepper (I probably shook in a good 1/4-1/2 t, and it had a nice bite. By the way, white pepper at the supermarket was $6. I got some at the Armenian store, probably as much as 2 supermarket containers, for $1.80!)

1/2 c. dry, fine white bread crumbs (I used coarse, whole-wheat panko crumbs - and it was yummy!)

PREHEAT THE oven to 400. Lightly oil three baking sheets or shallow pans. (I used cookie sheets lined with foil for easy clean-up.)

Prepare the vegetables:
Wash the eggplant and zucchini, and trim the stems. Scrub and peel the potatoes. Slice the eggplant, zuchinni, and potatoes lengthwise into approximately 1/4-inch-thick slices. (Yes, long slices - they will be layered, so don't worry if they are cut sloppily. Just try to keep not too thick, and not too thin. Too thin on the eggplant, I discovered, makes it stick to the pan when you roast it.) Rub the eggpland slices with a little salt and set aside in a colander in the sink or in a big bowl for about 15 minutes to drain. Briefly rinse with cold water and pat dry with a paper towel. (I forgot the rinsing step! But the salt made the eggplant really good, and there's not much salt in this recipe, so I'll probably skip the rinsing next time too.)

Place each vegetable on a separate baking sheet. Distribute the 1/4 c. oil among the three sheets and sprinkle the vegetables with salt (except the eggplant, if salted already. I forgot to salt the other veggies, and did not find the recipe to need any more salt. So will probably skip this next time, too.) Toss to coat the vegetables on each sheet, making sure each piece is completely coated with oil. (This is easy if you've lined the sheets with foil - you can grab both ends of the foil and fold them together to toss the veggies.) Drizzle a little extra oil on the eggplant, as it has a slight tendency to stick (or place the eggpland slices on oiled baking parchment. I don't have any parchment, but may get some for next time, because they really do stick.) Spread out the vegetables on each sheet; some overlapping is okay. Roast the pans of zucchini and eggplant for 15 minutes, or until tender. Roast the potatoes for about 20 to 22 minutes, until the edges are lightly browned. Allow the vegetables to cool. (Once cooled, if the zucchini is watery, blot excess liquid with a paper towel so that the casserole is not too wet. I also blotted the oil off of the potatoes.)

While the vegetables are cooking, prepare the tomato sauce:
Combine the remaining 1/4 c. olive oil and minced garlic in a heavy-bottomed saucepan. Heat over medium heat and let the garlic sizzle for about 30 seconds, then add the shallots and cook until soft and translucent, 3 to 4 minutes. Add the wine and simmer until slightly reduced, another 3 minutes. Add the crushed tomatoes, oregano, ground cinnamon, and bay leaf. Partially cover and simmer over medium-low heat for 12 to 14 minutes, stirring occasionally. The sauce should reduce slightly. Turn off the heat, remove the bay leaf, and adjust the salt (if necessary.)

Make the pine nut cream:
In a food processor, blend the pine nuts and lemon juice, scraping the sides of the bowl with a rubber spatula, until a creamy paste forms. (Do NOT use the immersion blender, unless you want little bits of pine nuts all over one area of the kitchen. Which you will then be finding for months. Use the food-processor attachment.) Add the tofu (at this point, I put it all in a mixing bowl and switched over to the blender attachment), garlic, arrowroot (or corn starch, or nothing), nutmeg, salt, and white pepper. Blend until creamy and smooth. Taste it and feel your eyes widen at the shock that there is no cream in this creamy sauce.

Lightly oil a 9x13-inch pan and preheat the oven again to 400, if necessary. Spread 1/4 cup of tomato sauce on the pan, then add successive layers in order of half the eggplant, half of remaining sauce, and half the breadcrumbs. Spread all the zucchini on top of this. Top with a final layer each of eggplant, potatoes, sauce, and bread crumbs. Use a rubber spatula to evenly spread the pine nut cream over the entire top layer. Scatter a few pine nuts on top, if desired.

Bake for 35 to 40 minutes, until the top is lightly browned and a few cracks have formed in the topping. Allow to cool 10 minutes before slicing and serving.